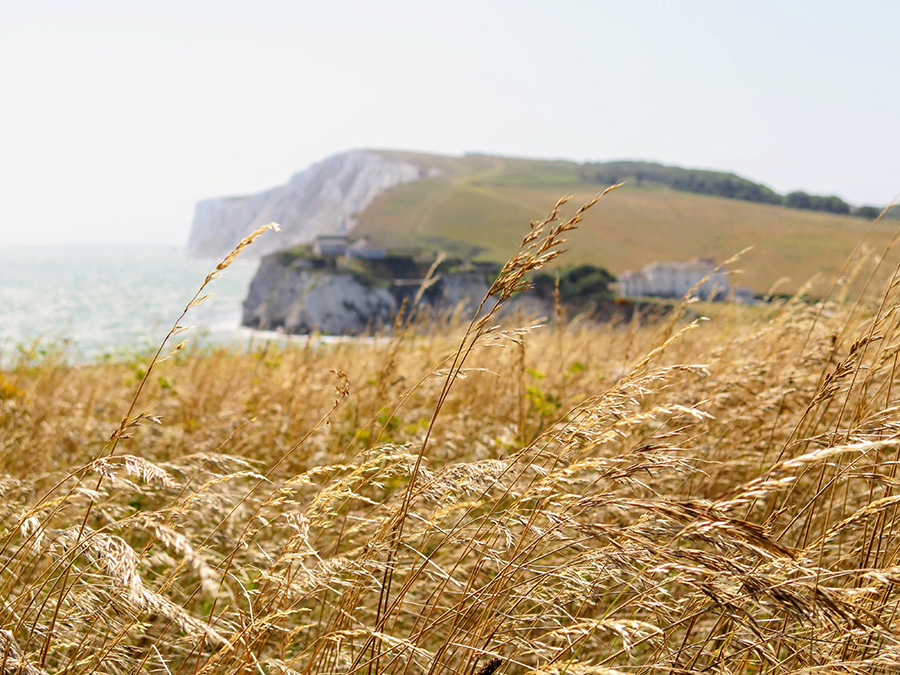 We took the crowded Cross Country train from Oxford down to Southampton on the Friday, and then a late evening ferry in the pouring rain to Cowes. After a camp not far from the ferry terminal, we packed up our sodden tent and pushed on anti-clockwise round the island. The rain eventually gave way around mid morning to glorious sunshine, which I was glad of, as I was finding it a right pain trying to navigate with my phone in a ziplock.
Most of the south of England seemed to be cycling round the island that weekend, albeit in the opposite direction, and we frequently had to dodge groups of roadies hurtling down narrow hedge-lined country lanes.
We stopped off at the Needles for selfies in front of the chalk pinnacles, squinting into the sun. The route then took us along the military road, where I was nearly sideswiped by an overtaking breakdown van towing a trailer. I tore into the confused-looking chap when I passed him later on, attending to his call-out, and it soured the afternoon a little.
Home for the night was a tiny, cute campsite tucked away on grassy fields near Chale. I decided I hadn't burnt enough calories on the day so far, so took off on a short, steep run up to St Catherine's Oratory, a tower high up on the headland nearby.
Sunday's riding seemed to be over all too quickly. We didn't think we had enough time to do the full loop of the island to make our ferry and train, so after a couple of stiff climbs up to Ventor we cut inland along the Red Squirrel Trail. None were seen, but it was a nice enough gravel and dirt trail and good to get away from the weekend traffic.
As it was we made it back to Cowes with plenty of time to spare for our ferry, and then back to Southampton with more than enough for our train. There was a closed-roads family cycle event in the city, so we amused ourselves by following the traffic-free route for a while. When we finally took our train home, we discovered Cross Country had ballsed up, double booking our cycle spaces. An elderly touring couple had already filled the cycle 'cupboard', so I was forced to stand all the way to Oxford with the bikes perched in awkward positions in the aisle and luggage racks. Train companies in this country are sodding awful when it comes to bikes. And trains too, come to think of it.