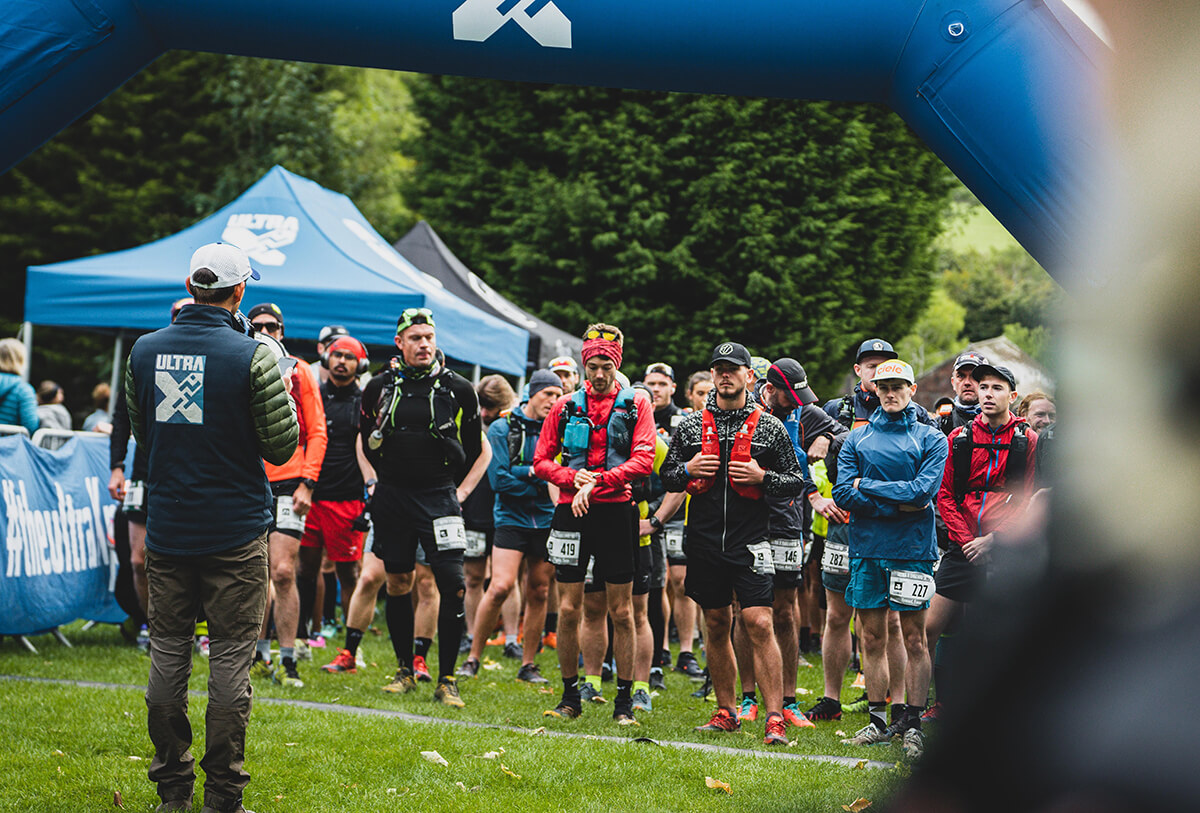 It's been a few weeks now since I ran the Ultra X 50km race up in the Peak District, and I've had a bit of time to mull over what worked and what didn't.
This was my first competitive ultra, although I've done similar distances a fair few times 'for fun'. I went into the race feeling pretty good about my level of fitness and the training I'd done.
Training
The last 6-12 months had seen probably my most consistent period of running in years (barring a couple of weeks off with ITB niggles in May, and some exclusive cycle touring in June as a sort of recovery period).
I'd been following Carla Molinaro's strength and conditioning programme fairly closely, getting one or two strength sessions in a week, and I was starting to see the benefits of that – fewer injuries and generally a feeling of being more 'in-tune' with my body and how it felt.
Training had seen a number of fairly long and/or hilly runs including a 42k route from Oxford to the Chilterns, a four-hour recce of the (very hilly) Wendover Woods ultra route, and a six-hour recce of the northern part of the Lakes in a Day route (getting mild heatstroke in the process, oops!).
I'd also just spent two weeks on my honeymoon in Austria, having an absolute blast bombing down twisty alpine switchbacks, and racking up more elevation than I normally do in a couple of months.
When it came to the race distance, I knew I'd be able to get round in one piece, and I was fairly confident I could handle the ascent. The three uncertainties that were floating around were instead:
Injury. Most likely glutes or IT band. The last time I'd run 50k in the Peak back in 2020 I knackered both IT bands, and had to hobble home. Recent strength work should help, but my legs were still tired from the trip to the Alps.
Weather. I do struggle a bit in cold wet weather. I've yet to find the most effective way of keeping hands warm and dry when the weather turns foul, and I've a bit of a silly habit of putting too much faith in windproof layers.
Nutrition. I suffer from IBS, which amongst other things makes it trickier to eat enough of the foods my body needs when running. Sugary foods don't sit well, and on longer runs I typically don't get anywhere near enough calories in me.
Race prep
I travelled up to Edale the day before the race to avoid race day travel and stress. It wasn't possible for 50km racers to camp at the race venue at Newfold Farm, so I camped 5 minutes down the road at Fieldhead Campsite, by the visitors' centre. It was a decent campsite, and although fairly busy with DofE groups and the like, I had space and got a decent-ish night's sleep.
That afternoon I also did a short shakedown and recce of the first few km of the route as far as the YHA up the valley. (This was very useful as I ended up at the front of the race pack the first few km!). It was a lovely day and I saw one or two runners doing the 125km event along the route.
When I got back I popped up to Newfold Farm for registration and to pick up my tracker. There hadn't been much information about the tracker, so I was a bit concerned about adding a big lump of plastic onto my pack, but fortunately my UD Adventure Vest has dedicated pockets on the shoulder that were large enough, so I used one of these and padded the chunky plastic box out with a spare Buff.
The race
Start and CP1
It was a chilly morning at Newfold Farm with a few spots of rain, and I milled around with the other runners trying to stay warm. As 10am neared and we moved towards the start line, there was the usual hesitation amongst folk not wanting to end up at the very front of the pack. I aimed to be towards the front, so I didn't get stuck behind slower runners on the early narrow stretches, but somehow I found myself slap bang front and centre on the start line. Bugger.
This was an advantage within the first few hundred metres though, as we passed along narrow paths and bridges out of Edale, but it meant having to maintain a fairly hefty pace to avoid holding anyone up. As I'd recce'd the first chunk the night before I was confident on the route, but as we headed out towards the YHA we hit our first steepish climbs and I had to slow. By this point thankfully it was plenty wide enough for others to pass. Sometime around this point, two or three rapid chaps passed me - that'd be the last we saw of them until the end!
As we started the climb up onto Nether Moor the pack started to spread out a bit. My poles were out by this point. The pace was still fairly high despite the ascent. By Blackden Edge I was sitting in around 8th position, as we headed along the narrow trails and hopped across granite boulders.
The descent into Checkpoint 1 was excellent. It came out of nowhere, a sudden right turn and we were dropping down a grassy slope. Like others I slowed initially, hesitant with foot placement on the steep drops. But I soon realised that most of the others around me weren't too comfortable descending at speed, and I had a chance to jump a few spaces. I bombed down and came into the checkpoint by Snake Road in around 5th or 6th position.
I hadn't given a huge amount of thought to checkpoint strategy. I took the opportunity to take off my windproof, which I'd been sweating in since the first climb, and wolfed down half an energy bar. Some of the runners I'd passed hadn't stopped, and I was keen to keep moving.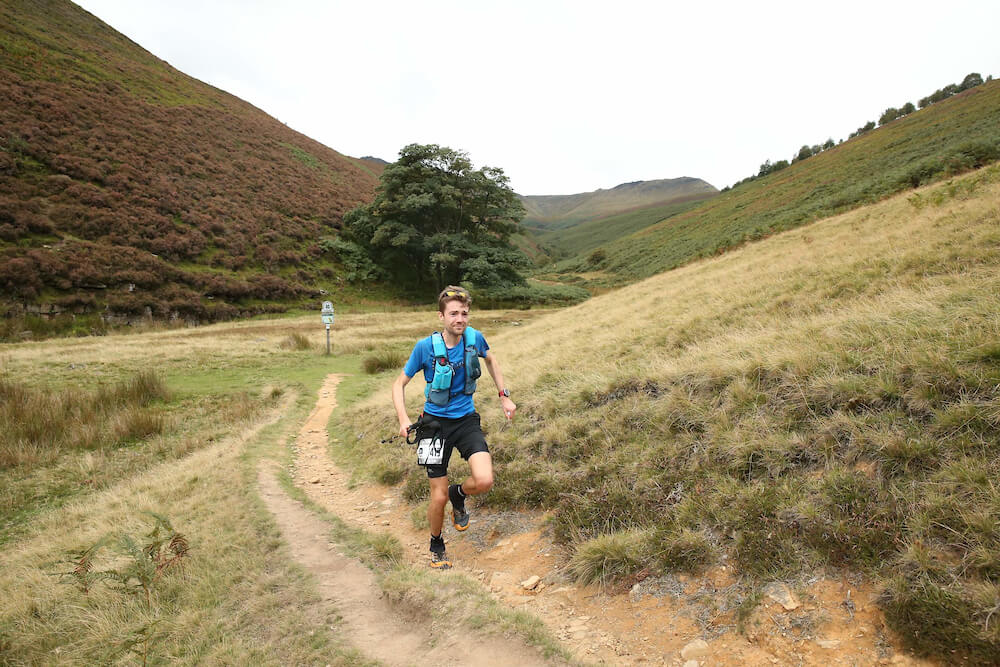 CP2
The next stage went fairly well. I maintained a good pace, alternating running and walking with poles, trying not to get swept up in the same frenetic rush as in the first few km. To my complete surprise at one point up on the moors I bumped into Carla Molinaro, who works with Ultra-X, doing a shorter run.
Things picked up again as we approached Kinder Reservoir. Some steep descents with tricky foot placement, a couple of nauseating climbs, and the tail end of the 125km runners, meant a bit more concentration was needed. I again dropped a few folk as we headed down to the checkpoint, a 125km racer calling out "5th place" as I bombed past him on some slippy cobbles, which was a nice boost.
At CP2 I refilled bottles, had some cheese sandwich and a few snacks before getting going again promptly. It was a road climb out of the checkpoint and I ended up chatting with another racer for a bit as we walked.
CP3
Things started going downhill (metaphorically) a bit after this point though. As the route climbed back up onto the moors I started getting cramping in my hamstring. Hamstring cramps are not something I've encountered much before. They came and went for a couple of km, and I did a bit of half-hearted rubbing and quick stretching on the move. Unsurprisingly that didn't do an awful lot, and on a grassy descent down Mount Famine I was suddenly hit with bad cramps all down my hamstring and in the sole of my foot, sending me crashing down onto the turf.
I knew it was probably down to a lack of electrolytes, and a passing racer kindly donated me a gel which he claimed had electrolytes in it. I took it, in a bit of a state at this point, without thinking too much. Unfortunately I forgot my stomach can't tolerate gels. I spent the next few km feeling pretty awful and retching at various points. I was struggling to take in any other food too, and I spent the next thirty minutes or more really struggling, with runners constantly passing me.
I got to CP3 eventually, refilled water, and tried to have a decent hamstring stretch. I also forced myself to have some more food, managing to keep down a 'natural' date-based gel from Veloforte and some more sandwich. That seemed to settle my stomach and I started feeling better.
CP4 and finish
I managed to pick up the pace a bit as we approached Castleton, and on the descent down the old broken road managed to pick off a fair few runners. We continued down the valley, though a lot of overgrown sections where racers evidently kept going off course.
I came to CP4 feeling pretty good, and just stopped for a few seconds for a water top up. I'd been running pretty consistently for a while, passing a lot of folk who had reached the walking stage of their race.
A hidden left turn near the base of Lose Hill left me and a couple of other racers lost for thirty seconds, while a farmer tried to tell us to run back in the direction we'd come from (thanks, but no thanks!).
Then followed the toughest climb of the race. I've come down this side of Lose Hill before, but never up. I thought it would never end. I passed a racer halfway up, sitting down and looking into the distance with a thousand-yard stare. It was a fairly busy Sunday afternoon so the climb was shared with quite a few 'normal' people wondering what all the fuss was about.
Eventually at the top, it was a small matter of the 5km or so along the ridge and back into Edale. I played leapfrog for a while with a few folk including lady #2. As we climbed up to Mam Tor the skies suddenly opened up, and within a few seconds I was drenched. I only had a base layer on, but so close to the finish I wasn't going to faff around with a jacket.
The fast descent down the north side of Mam Tor through Greenlands was lovely, with lady #2 hot on my heels the whole time. I must have used all my energy reserves on the downhill though, because I slowed and had to dig deep on the final few hundred metres through Edale back to the start, including a cruel uphill kick right at the end. Unfortunately the lady and another chap I'd previously passed overtook me on the final stretch of road. By this point I was so low on energy I couldn't do anything about it.
I crossed the line at around 6hrs 31 minutes, in 12th position. Pretty happy with that as a result - although I knew if I sorted out nutrition I could definitely improve on that.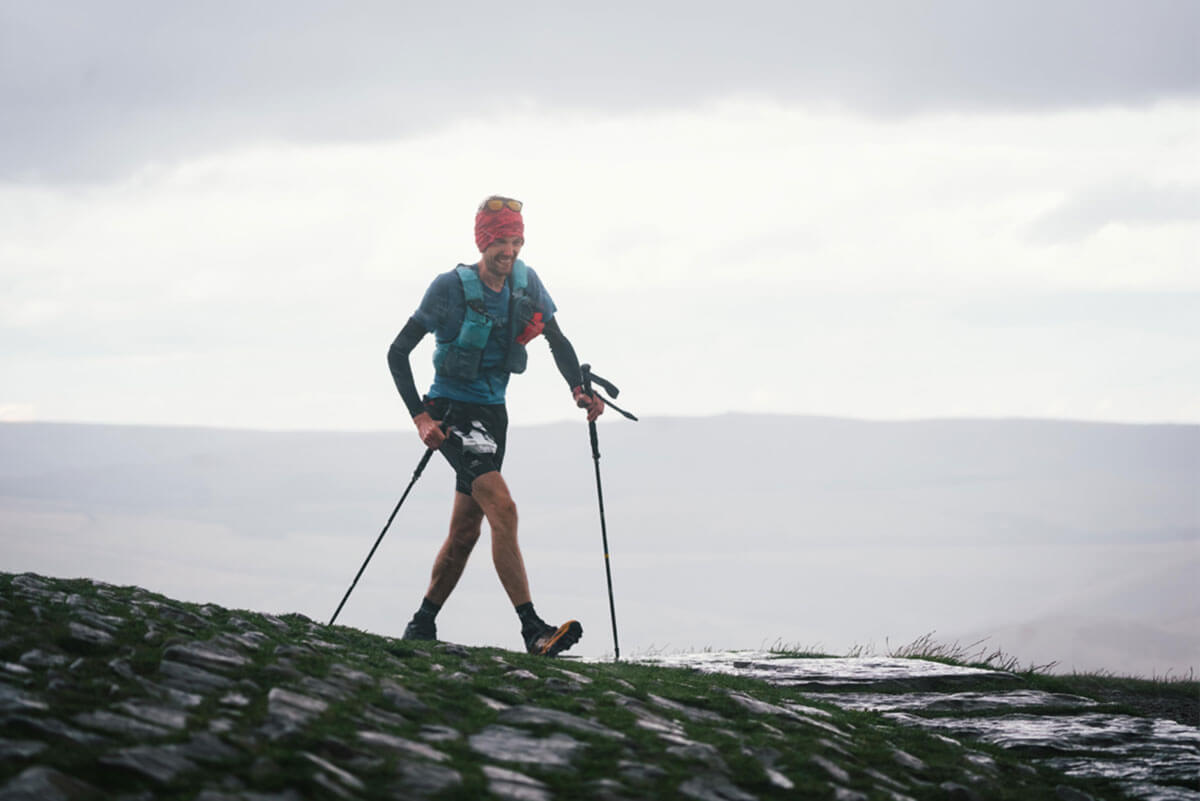 What went well
I was pleased with my descending. It wasn't a particularly technical route, and I'm no fell runner, but lots of other runners didn't seem as confident or fast on the downhills, which meant I could pass quite a few places each time.
Poles worked well on the uphills. I ended up keeping them out all the time, which I wasn't really expecting, but they're a bit faffy to put away and the course was very undulating.
No real issues with shoes. I love the Inov8 X-Talon Ultra 260 v2's, and they didn't let me down at all in terms of grip or comfort.
It was such fun meeting and chatting with other runners. The atmosphere in the race venue at the end of the night was great fun.
No real issues with IT bands or knees. Looks like the strength work paid off. I had a few slight niggles early on but they quickly disappeared.
What could go better
Electrolytes - I clearly didn't take enough on during the race, which led to cramping and ultimately a pretty awful middle section. Apparently 'front-loading' with electrolytes in the days beforehand is a good approach too.
Nutrition - again, I didn't take enough in. My long run nutrition strategy tends to revolve around jelly babies, but the issue with these is that you need to eat a lot of them, which means a lot of faffing. I might move back to Clif bars in future. I also had real cravings for non-sugary foods later in the race, so I need to think about how to tackle this. The cheese sandwich I had wasn't very appealing by this point either. I was clearly down on calories after the race, as I woke up at 3am in my tent and devoured most of a cold pizza...!
I'd like to try a different poles / pack combination, to enable me to put poles away more easily for descents. I did find the poles got in the way a bit on some sections.
Cut down on unused kit. I took a fair bit more than the kit list required, including spare gloves, money, quite bulky waterproof trousers etc. I think it's worth considering what can be cut from my standard training kit list, as it not only saves on weight, but it makes it easier to get at food etc from the pack.
Work on uphills. Although I don't think I'm bad at hills, I probably haven't done enough dedicated hill work lately, and could do with bumping up my weekly ascent bit more.