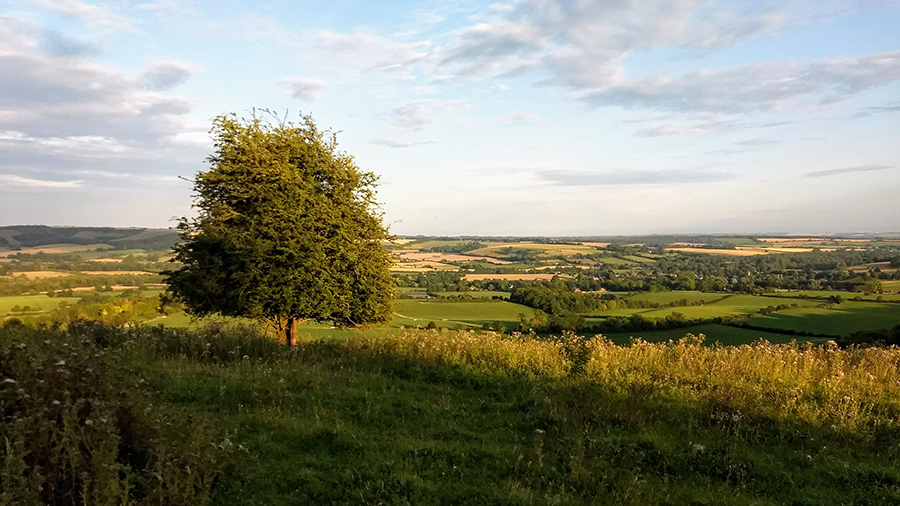 Another little weekend trip away - this time a solo excursion along half the SDW. Three or so trains took me to the little village of Amberley on the Friday night, where I arrived just as night and a light rain were both starting to fall. A brisk run up the trail found me a bivvy spot in a farmer's field.
The next morning was a beauty. Layers of mist lay across the valley below, and a soft golden glow in the sky grew stronger as I tucked into my cold soaked porridge. Rough chalky trails snaked up and down over fields, and I dipped in and out the fog, removing layers as the day grew warmer. I cantered down a hill past rows of sunflowers shining yellow through the mist and murk, stopping to gratefully fill my bottles at a drinking water tap on the route.
I told the chap camping nearby of my plan to run to Winchester. "But that must be 40 miles!" He seemed impressed. "With that bag on too?". I didn't tell him I was walking up all the hills.
I made it to my designated camping spot at the Queen Elizabeth Country Park by lunchtime, 20-odd miles under my belt. Bit of a dilemma. Stop now and have to hang around for 8 hours before I can find somewhere to bivvy, or push on and risk overdoing it? I decided to compromise, taking an extended break before carrying on for a few more miles. A tea and a bacon butty barely touched the sides, so I bought a second lunch while ogling the bikes of all the mountain bikers at the park.
More miles after lunch, over Iron Age hill forts and past the farm and glamping huts at Meon Springs. The wide, flat hamlet strangely reminded me of somewhere on the plains of the south island of New Zealand.
Finally I called it a day at Meonstoke, treating myself to an early dinner of ham, eggs and chips, before clambering up one final slope for a camp. It was a gorgeous spot, with great views over golden, rolling fields. There was an obvious burn mark on the grass where someone had used a disposable BBQ recently, so I tucked myself away and hoped for the best. Thankfully I had the place to myself - at least until about 6.30am when a dog walker strolled past, mere moments after I'd emerged from a nearby bush!
Things were hurting quite a bit this morning, so I took it easy, walking and jogging slowly along the rolling grassy slopes towards Winchester and the train home. A festival town was being constructed on the outskirts for the following week's Boomtown event, so the final few miles were overshadowed (often quite literally) by stages, steampunk sculptures and armadas of portaloos.